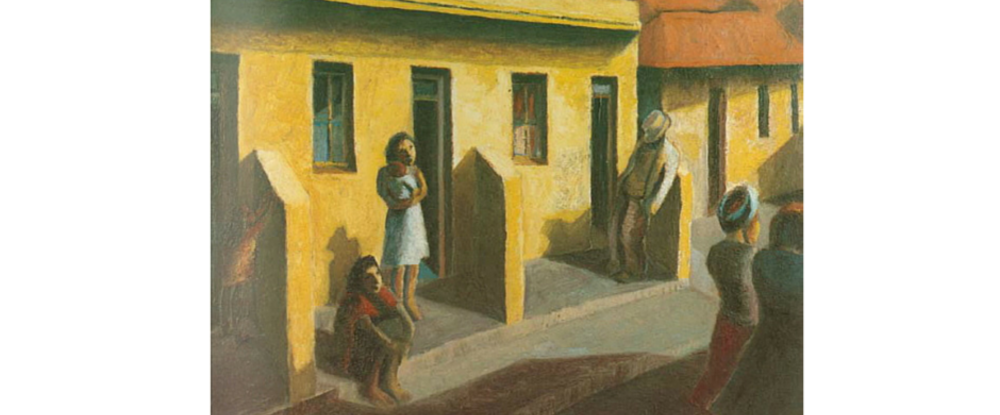 South African Art is exploding on the global arts scene. This is mostly due to the efforts of Bonhams, an auction house based in London. Since 2006, they have held art auctions focused solely on South African art and they currently hold world records for several major South African artists. These are some of the world records they hold, listed from lowest to highest.

Sekoto, born in Botshabelo, South Africa, moved to District Six in 1942 and lived there till 1945. During this period, he painted the above piece and many others as well. This is what he is quoted as saying about painting during that period of time in District Six:
Although much of the time I would feel scared to enter too deep into the most dangerous seeming hide-outs of District Six, I hovered within arm's length, observing and making sketches in a very acrobatic style. This meant making quick sketches in such a manner that an observer would imagine I was noting down some forgotten names of articles I needed to buy or notes I had to attend to. But shortly I would go to the studio to work upon these sketches on pieces of paper which were reminders to me." (the artist as quoted in B. Lindop, p. 23)

Preller's fascination with artists such as Vincent Van Gogh and Paul Gauguin, and his exposure to tribal culture in Swaziland, Congo and Mali resulted in his mythical works. The painting above was influenced by the sculptures of a reclusive tribe of people called the Dogon who reside in Mali.

The "Baobab Tree" was an unfinished project, completed at the urging of one Charles Te Water. Charles Te Water, a public figure, came across the painting sitting in the corner of Pierneef's workshop. He encouraged Pierneef to finish the painting as it was a fine painting. Upon completion, Pierneef gifted it to Te Water.

This painting, featuring an Eastern model with blue/green skin is an iconic Tretchikoff piece. It went viral back in the 50s/60s and is one of the best selling prints of all time. Not surprisingly - it is absolutely stunning!

Irma Stern developed a fascination for the Arab culture through the Malay community in Cape Town. She further immersed herself in this culture during a trip to Zanzibar where she attending a wedding, stayed across the street from a mosque and shopped in bazaars. It is said that this trip was a deliberate attempt on her part to "conquer new ground". She certainly achieved this. Many of the words from this period of her life have become popular and were successfully auctioned. Although none have reached the heights of this painting.
Sources:
http://www.bonhams.com/
http://www.sahistory.org.za/
Wikipedia